University of Minnesota Sailing Team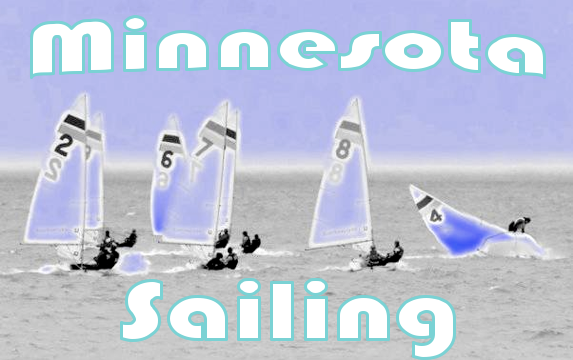 News:
6/4/10

From Allison at ICSA Womens semifinals:

Sailors,

I write this email from my sister's living room in Madison. The girls are getting pretty for the banquet tonight after a long week. As I am sure many of you heard, Semifinals was never completed. Tuesday and Wednesday were just a series of waiting games. A's were sent out and brought back in about 5 times on Tuesday, only starting one race which was later called off once the wind died (though we were beating Wisco at the time... so I think we would have beat them overall... haha). Sitting in the sun from 8:30-7 took its toll on us all. We came home and passed out early hoping to get some sailing in on Wednesday. A's went out early on Wednesday morning, with enough wind to get to the line only for it to completely die again. We sat for 30 minutes on the water and were sent back in. They held us on shore until about 6pm when a storm started to come through and it was determined that there was not enough time to complete a full regatta so Semi's was called off. It was a long and disappointing two days. The qualifiers for the final round then went to an old formula which grants divisions berths and takes teams based on their places at district qualifiers, putting Wisco and Michigan in for the MCSA and excluding teams who would have been in the running for the top five such as Yale. Though we were let down that we didn't even get the opportunity to prove ourselves, we were excited about the 2 day clinic with Olympic Gold Medalist Anna Tunnicliffe. She was a fantastic teacher and I think we all agree that it was one of the most beneficial experiences of our college sailing careers. We are going to work hard on getting a team picture with her tonight at the banquet :)... she's kind of super awesome.

So the sailing season is officially over. We can definitely call this a successful Spring season. We qualified for Coed and Women's Semifinals and probably had one of our better performances in team racing we have ever seen. Thanks to the board and our coaches for putting in so much time and effort to keep the team going.

Happy sailing!

4/29/10

In a heart-pounding finish, the Gopher Women's Team won a 3rd place tie breaker in the MCSA women's qualifier. The girls are going to Women's Nationals in Madison, WI! Meanwhile, the boys sailed and won 1st place at Wisconsin's 3-Way Regatta this past weekend.

4/21/10
Last weekend the team placed 2nd in MCSA Coed Qualifiers at Notre Dame. The Gophers qualified to compete in the ICSA semi-finals in Seattle!

4/15/10
We've been provided with beautiful weather to start the spring season! The ice melted sooner than expected so practice is underway and the season is in full swing. The team has already competed in two regattas so far this spring: Big 10 Team Race at the U of Michigan where we placed 2nd. The team was at Northwestern University last weekend to compete in Wet Your Willie where we took 1st in B division and 2nd overall.

2/15/10
Congratulations to our sailors who received awards at the annual MCSA Midwinters Banquet in Chicago! The awards include Top All-Conference Crew to Emma Gantzer, Honorable Mention Co-ed Skipper to Nick Hovland, Top All-Conference Co-ed Skipper and Singlehand Quals Champ to Matt Thompson and Top All-Conference Female Skipper to both Natalie Sinn and Allison Prange.

We're currently in the offseason, anxiously waiting for the ice to melt on Lake Minnetonka so we can start practicing again. Our team placed 3rd overall in the last regatta of the fall season, the Timme Angsten Memorial Regatta in Chicago.