On this page...
Drumline
c/o MN Marching Band
TCF Bank Stadium
420 23rd Avenue
Minneapolis, MN 55455
612-624-2514
drumline@umn.edu
WE HAVE A NEW CHEER!
"w'sup G?"
Click to learn more.
Do You Have Questions About Drumline?
Try our FAQ page or do a Search to find your answers quickly.
Join The Band
If you're interested in joining the history and pageantry of the Pride of Minnesota, fill out our online interest form, send an email to mnmarch@umn.edu or call the band at 612-624-2514.
A New Home For The Marching Band
With the new TCF Bank Stadium bringing pride and spirit back to campus, the Marching Band has a new home. To see our new 20,000 square foot Marching Band facility in the new TCF Bank Stadium, click here.
Latest CD Now Available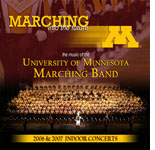 The Minnesota Marching Band's newest CD, "Marching Into the Future", featuring live recordings from the 2006 and 2007 Indoor Concerts is available. You can take the band home now for only $15.
CDs can be ordered through the band office by downloading the CD Order Form.
You can also find our CD at the University of Minnesota Bookstore.
Marching Into The Future: A Campaign For Support
The students of the Minnesota Marching Band give so much to the University and to the people of Minnesota. This campaign is our opportunity to give back.
The Marching Band needs a significant level of private support to sustain and build its proud tradition of teamwork and service. To keep the band at full strength and in top form, a new facility is essential, and so are leadership awards. Our students deserve nothing less than the best.
Scholarships To Develop Band Leaders
Leadership awards will ensure that the band marches boldly into the future by continuing the development of young leaders and ensuring that our talented students can continue their involvement in the band. A permanent endowment of $1.25 million will be raised to create leadership awards for members of the Minnesota Marching Band.
Matching Dollars
President Robert Bruininks has pledged that the University of Minnesota will match all private gifts to the campaign dollar for dollar. That doubles the impact of every dollar you give!
You Can Give Now
Our band is widely recognized as one of the very finest in the nation. Together, we can keep it that way. Please consider making a gift to the Marching into the Future campaign. Help us create a permanent resource that will keep the tradition and spirit of the marching band alive and support our magnificent musical ambassadors long into the future.
Make a gift to the Minnesota Marching Band online through the University of Minnesota Foundation.
SkiUMah.org
The Band Alumni Society has launched its new website, skiumah.org. We invite you to visit now and visit often to see what your former colleagues are up to.